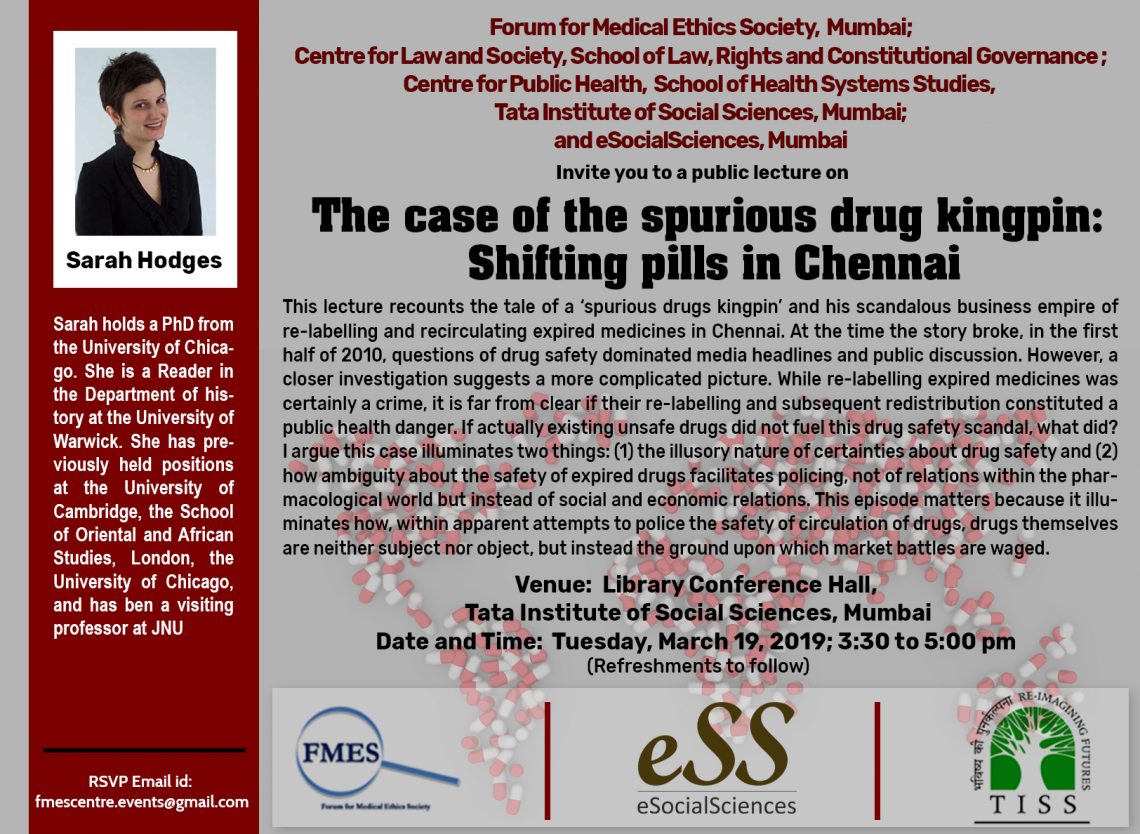 The public lecture by Dr. Sarah Hodges critically re-examined our collective common sense about fake drugs and global health, as well as the politics of health in colonial and postcolonial India. Her talk explored issues of commodification of drugs, lack of transparency, testing of drugs for quality and safety, and the role that larger pharmaceutical market and neoliberal policies play in deciding the quality of drugs. The discussion that followed Dr. Hodges' talk encouraged the participants to look at larger issues related to drug procurement, public health enforcement bureaucracy and its relationship with pharma industry, as well as to think about the issue of drug quality and the different terminologies used to describe the quality and safety of drugs – spurious, illegal, fake, sub-standard, counterfeit, falsified, and sub-standard.
Dr. Hodges recounted the tale of a 'spurious drugs kingpin' and his scandalous business empire of re-labelling and recirculating expired medicines in Chennai. She narrated how a news report of a three year old girl who died after taking antibiotics that were given to treat her fever, bought to light the scandal of spurious drugs and how they found their way into Chennai's pharmacies. The death of the toddler was overshadowed by the search for culprits. Raids of homes and offices eventually led to the police to seize drugs worth lakhs of Indian rupees.
Widespread media coverage and closer investigations led to the emergence of individual characters, who were neither retail pharmacies nor drug manufacturers, but a network of distributors. Twelve such distributors got arrested and charged with forgery and cheating offences. One such owner of a drug distribution company who had shot to fame in a short span of time, nabbed by the Chennai police was the chief accused and was dubbed as the spurious drugs kingpin. He was arrested and lawyers denied defending his case, but having political connections he was able to get out on bail with no criminal charges levied against him.  He later also went on to attend a meeting of drug stockists that was called by the health department.
Drug officials and state agencies assured the public that none of these drugs would reach pharmacies and that the sellers of such drugs would be punished.  Regulations require that pharmacy retailers keep a close eye on expired drugs and label them as being "not for sale", which must then be collected by the manufacturers. However, all these regulations were flouted. Rather than disposing off the drugs, the distributors resold them by relabelling expiry dates and redistributing expired drugs to new retailers who were unaware of this nexus.
At the time the story broke, in the first half of 2010, questions of drug safety dominated media headlines and public discussion. However, a closer investigation suggests a more complicated picture. While re-labelling expired medicines was certainly a crime, it is far from clear if their re-labelling and subsequent redistribution constituted a public health danger. There was no direct evidence put on display about the public health dangers of the relabelled, expired, and redistributed drugs. No questions were raised on the dangers of the spurious drugs to the public even though there was a fear among the public about the imminent dangers of such drugs to public health.
Through this case, Dr. Hodges illuminated two things: (1) the illusory nature of certainties about drug safety and (2) how ambiguity about the safety of expired drugs facilitates policing, not of relations within the pharmacological world but instead of social and economic relations. This episode matters because it illuminates how, within apparent attempts to police the safety of circulation of drugs, drugs themselves are neither subject nor object, but instead the ground upon which market battles are waged.
Click here for the video link of the lecture