Greetings!
We – Forum for Medical Ethics Society (FMES), Mumbai are pleased to announce 127th WHO Global Health Histories seminar being organized by us in collaboration with Centre for Global Health Histories (CGHH), University of York, United Kingdom; the Centre for Law and Society, School of Law, Rights and Constitutional Governance & the Centre for Public Health, School of Health Systems Studies, Tata Institute of Social Sciences, Mumbai; and Centre for Policy Studies, IIT Bombay.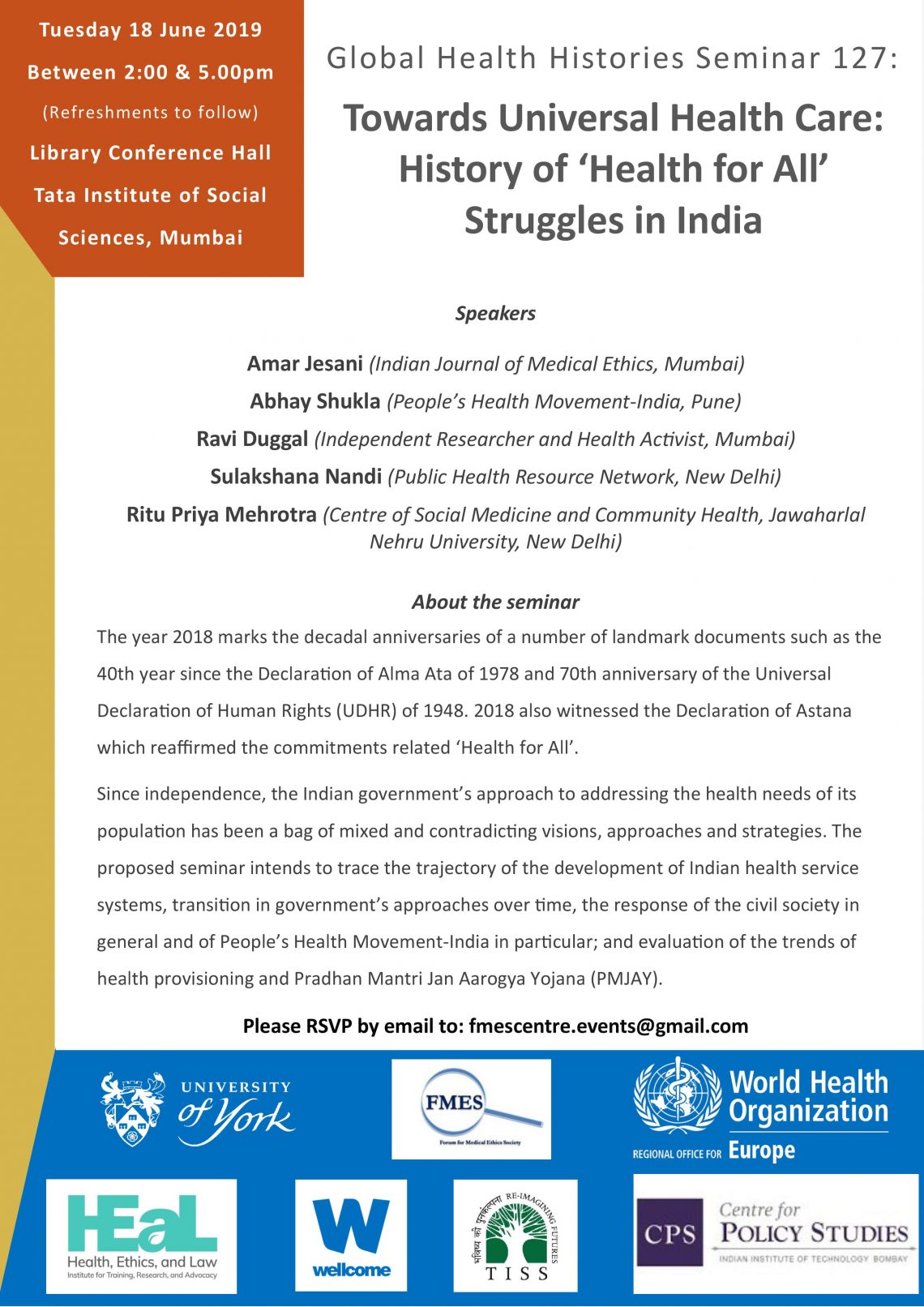 About WHO Global Health Histories Seminar
The World Health Organization's Global Health Histories project, established within the WHO headquarters and regional offices in 2004, is linked to the Centre for Global Health Histories (CGHH), Department of History, University of York, UK. The annual WHO Global Health Histories seminar series, which forms an important part of the project, is collaboration between the Division of Information, Evidence, Research & Innovation (DIR) at the World Health Organization Regional Office for Europe and the CGHH, generously funded by the Wellcome Trust. Since it was launched, the enduring mission of the Global Health Histories seminar series (GHH) has been based on the idea that understanding the history of health, especially during the last 60 years, can help the global public health community to respond to present-day challenges. It was envisaged as a way of bringing together academics, policymakers, public health professionals and members of the public from all over the world to foster useful discussions on topical global health issues, and create opportunities for historians and policy makers to connect with and learn from each other.
These seminars are co-hosted at the WHO Regional Office for Europe and elsewhere by the Division of Information, Evidence, Research & Innovation (DIR) at the World Health Organization Regional Office for Europe and the University of York.
About the subject
The year 2018 marks the decadal anniversaries of a number of landmark documents such as 70th anniversary of the Universal Declaration of Human Rights (UDHR) of 1948 which laid the foundation for seeking the highest attainable standards of health, the 40th year since the Declaration of Alma Ata of 1978 in which the world pledged "Health for all by 2000 AD". Therefore number of consultations steered by WHO to review the 'Health for all' goal culminated into yet another document namely, Declaration of Astana which reaffirm the commitments related 'Health for All'. United Nations as well set a goal of 'Ensure healthy lives and promote wellbeing for all at all ages by 2030' as a crucial component of Sustainable Development Goals. Although the world is better off in terms of improved health status of people by many measures than before, much needs to be done on different fronts to respond to the lack of access to healthcare, poor quality of living and working conditions, and deteriorating quality of overall environment which affects more adversely the already deprived.
Since independence, Indian government's approach to addressing health needs of its population is a bag of mixed and contradicting visions, approaches and strategies. In 1946, Health Survey and Development Committee Report, popularly known as the Bhore Committee report, presented for the first time comprehensive proposals for the development of a national program of health services for the country. It laid the foundations of the health services in the country and charted a course for public health investments and infrastructure in India. Soon, there was a dramatic departure post Alma Ata declaration. India opted selective program based approach to create vertical disease eradication programs. Though this approach fetched some substantial achievements in controlling certain virulent epidemic diseases, the access to basic health care to a large majority, especially in rural and remote areas remained unavailable. Since then gradually 'state' started withdrawing from healthcare which led to an unregulated health industry – trans-national pharmaceuticals, insurance, and other health corporations – that is aggressively seeking expansion and profits from the provision of healthcare, and attracting investments by global finance capital. This is evident in the National Health Policy (NHP) of 2017 which has proposed 'strategic purchasing' of secondary and tertiary care from the private sector. Critiques consider that this is translated in the recently launched Pradhan Mantri Jan Arogya Yojana (PMJAY) claimed to be world's largest health program covering around 500 million population through insurance model. The PMJAY is critiqued as a scheme which would benefit private health care institutions; and that it's under provisioning will deteriorate the access of to healthcare especially of poor and marginalized.
Critical thinking explaining inequity in health and health care has been informed by political economy analyses. There is now an emerging thinking of 'politics of knowledge' which, it is argued, that would complement the political economy of health approach to enable realization of health for all.
The proposed seminar intends  to trace  the trajectory of development of Indian health service systems, transition in government's approaches over time, response of the civil society in general and  of People's Health Movement-India in particular; and critical evaluation of the trends of health provisioning and PMJAY.
We look forward to have you at the seminar.
Click here for the program schedule.