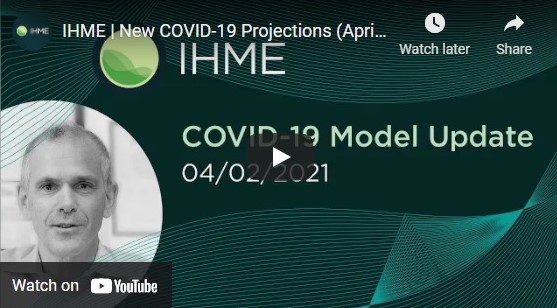 April 5, 2021 | IHME | Insights from IHME's latest COVID-19 model run
In this week's release of the IHME models for COVID-19, I think it's important to look at four different areas of the world that are driving the global epidemic right now.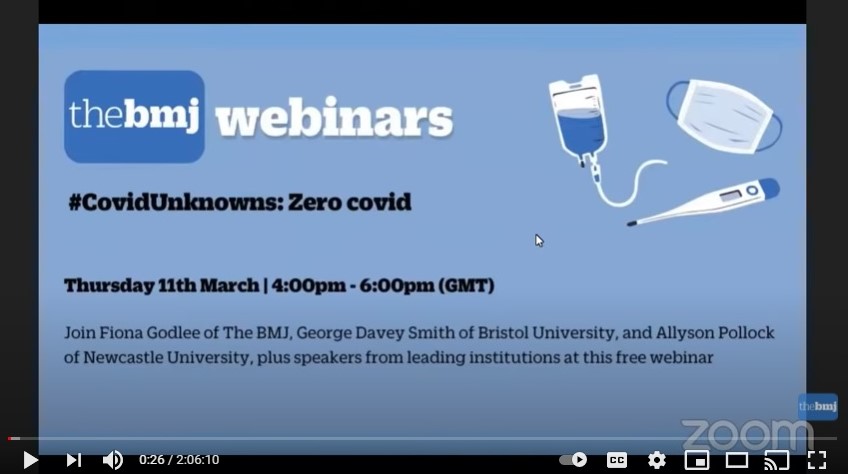 March 11, 2021 | THE BMJ | #CovidUnknowns: Zero covid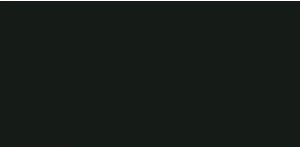 January 14, 2021 | The Indian Express | Challenges facing the vaccination drive and worries over vaccines
In this episode, first Kaunain Sheriff, who reports on health for the Indian Express, talks about how the government plans to conduct the first COVID-19 vaccination drive, and the challenges that it will likely face.
And next, virologist Dr Shahid Jameel, explains the concerns around the two vaccines that are going to be used in the drive, why the details about their efficacy are 'shady', and the damage done by the heads of the Serum Institute of India and Bharat Biotech (13:48).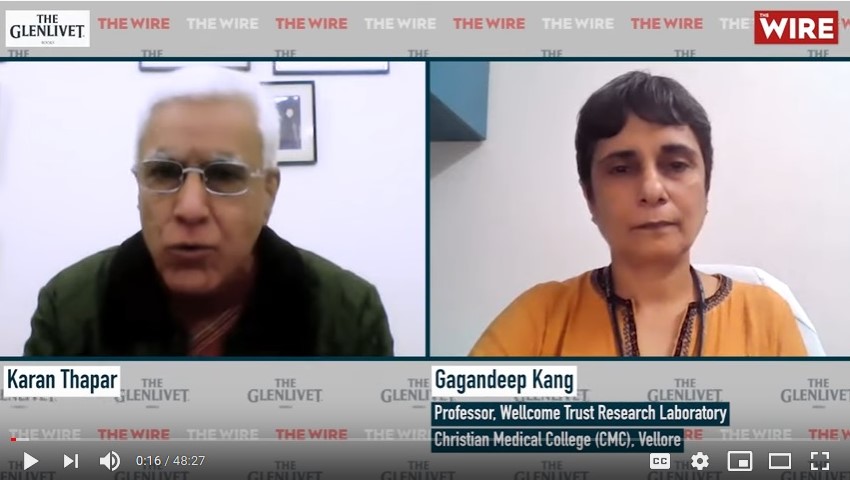 January 5, 2021 | The Wire | 'I Won't Take Bharat Biotech Vaccine Till Efficacy Data Is In, AstraZeneca also Raises Concerns'
In a comprehensive interview to Karan Thapar for The WireProf. Gagandeep Kang, who works at The Wellcome Trust Research Laboratory at the Christian Medical College in Vellore, said the precedent set by the Ebola and Nipah vaccines, both of which were cleared without completing their Phase 3 trials and obtaining their efficacy data, does not apply to Covid-19. She said this is both because of the differences in the disease and its mortality as well as the fact that we have other licensed products to tackle Covid-19. "I would ask why would you want to give a vaccine without efficacy emergency use authorization in these circumstances?" she said.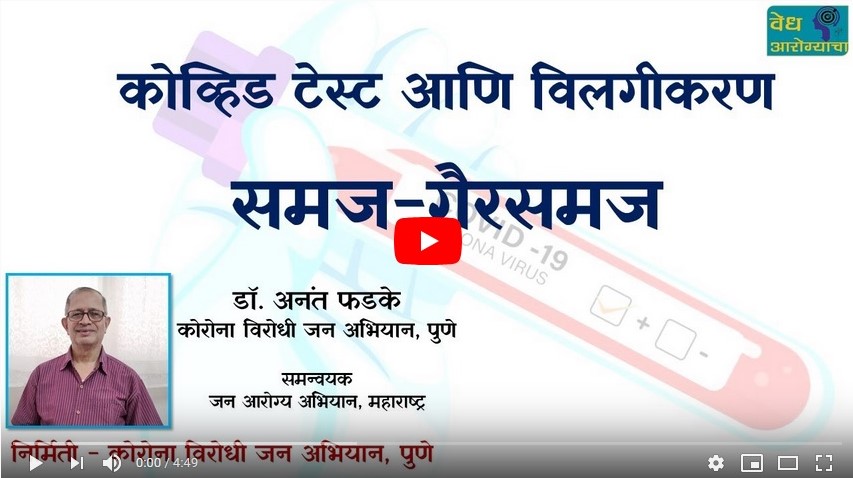 October 16, 2020 | Vedh Aarogyacha | कोव्हिड टेस्ट आणि विलगीकरण समज – गैरसमज | Dr. Anant Phadke
कोव्हिडचा रिपोर्ट पॉझिटिव्ह आलेल्यांना सरकारच्या 'कोव्हिड केअर सेंटर' मध्ये १४ दिवस दाखल करायला काही ठिकाणी गैरसमजापोटी विरोध होतो आहे. काही ठिकाणी त्याच्या विरोधात अफवाही पसरल्या आहेत. या सर्व पार्श्वभूमीवर या चाचण्या करण  आणि 'कोव्हिड केअर सेंटर' मध्ये या बाबत नेमकी काय परिस्थिती आहे ते थोडक्यात समजावून सांगत आहेत करोनाविरोधी जन अभियानचे डॉ. अनंत फडके.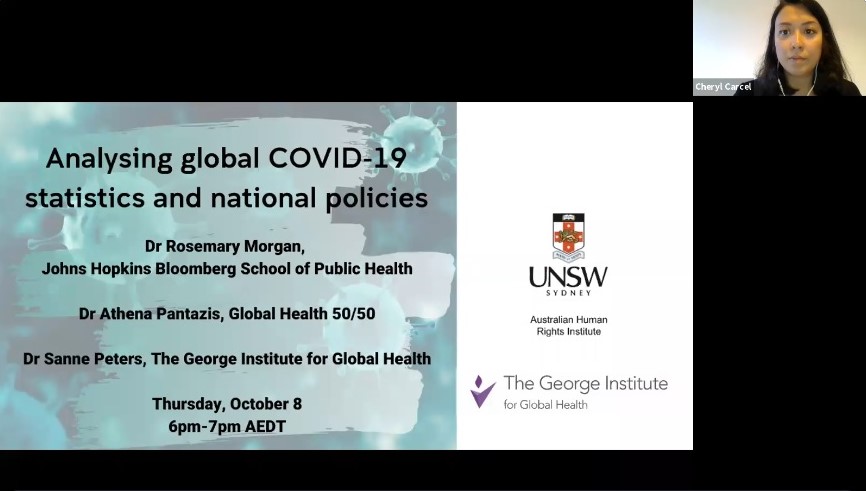 October 8, 2020 | UNSW | Analysing global Covid-19 statistics and national policies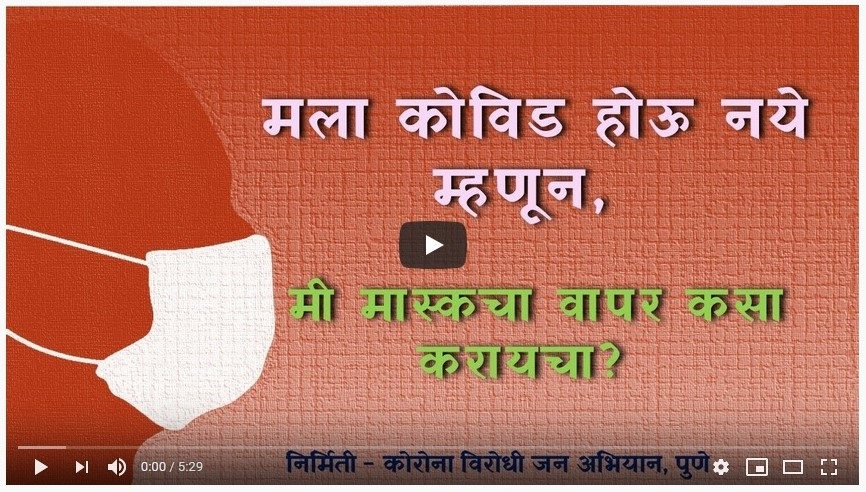 October 5, 2020 | Vedh Arogyacha | मला कोविड होऊ नये म्हणून… मी मास्कचा वापर कसा करायचा?
कोविड १९ च्या साथीचा प्रसार रोखण्यासाठी प्रत्येकाने काही काळज्या घेणे महत्त्वाचे आहे. त्यात सर्वात जास्त महत्त्वाचं आहे मास्क वापरणं. आज आपण मास्क का, कोणी, कधी, कुठे आणि कसा वापरायचा या बद्दल बोलणार आहोत.
October 2, 2020 | JAMA Network | Who Gets Coronavirus Vaccine First?
On October 2 the U.S. National Academies of Science, Engineering, and Medicine issued its consensus Framework for Equitable Allocation of a COVID-19 Vaccine. William H. Foege, MD, MPH, Emeritus Distinguished Professor of International Health at the Rollins School of Public Health at Emory University, co-chaired the committee that authored the report, and discusses its recommendations. Recorded October 2, 2020.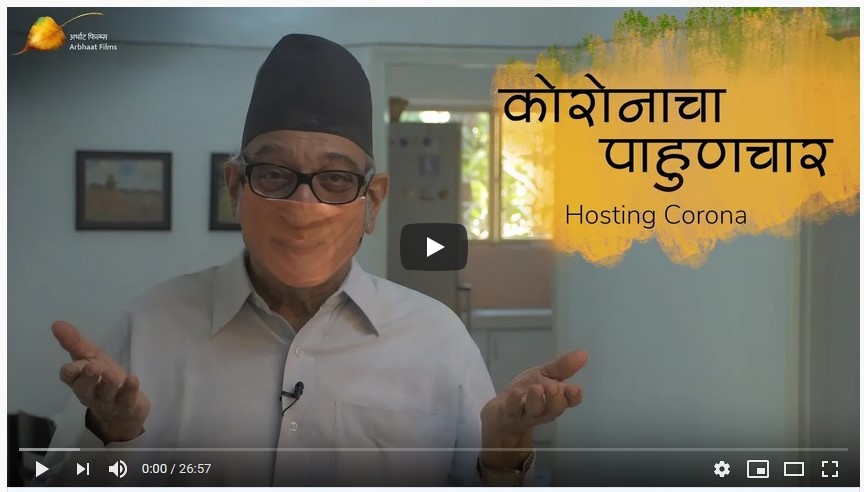 September 18, 2020 | कोरोनाचा पाहुणचार | Hosting Corona | Covid-19 Awareness Film | Arbhaat Films
गेल्या काही महिन्यात, आम्हाला प्रकर्षाने जाणवलं की कोविड-१९ बद्दल प्रचंड माहिती उपलब्ध असली तरी या साथीच्या दिवसात नेमकं कसं वागायचं हे कुणालाच स्पष्टपणे कळत नाहिये. या आणि अनुषंगीक अनेक प्रश्नांची उत्तरं शोधण्यासाठी आम्ही हा माहितीपट बनवला आहे. तुम्हाला ऊपयुक्त वाटेल ही आशा.
Hello! Since the past few months, COVID-19 has wreaked havoc globally. After its outbreak, social media platforms have been bombarding us with misleading information, which has resulted in fear and chaos. This film is our humble attempt to answer your questions through reliable information sources and instill a scientific approach in the society about the ongoing pandemic. Hoping that it would prove helpful! Do watch and spread the word. Thank you!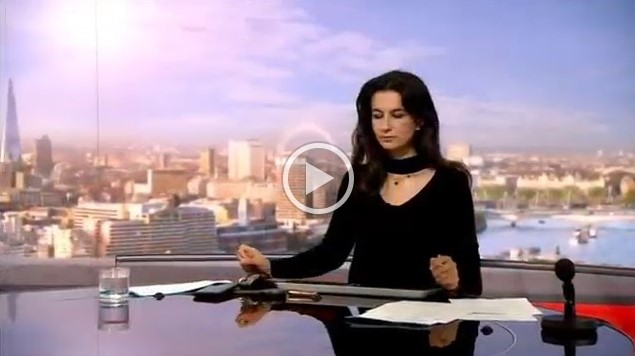 August 26, 2020 | BBC World | BBC World on profiteering by private hospitals in India during the COVID-19 pandemic.
The report features family members of some of the patients who have been exploited by private hospitals, and who we have been working with to get justice.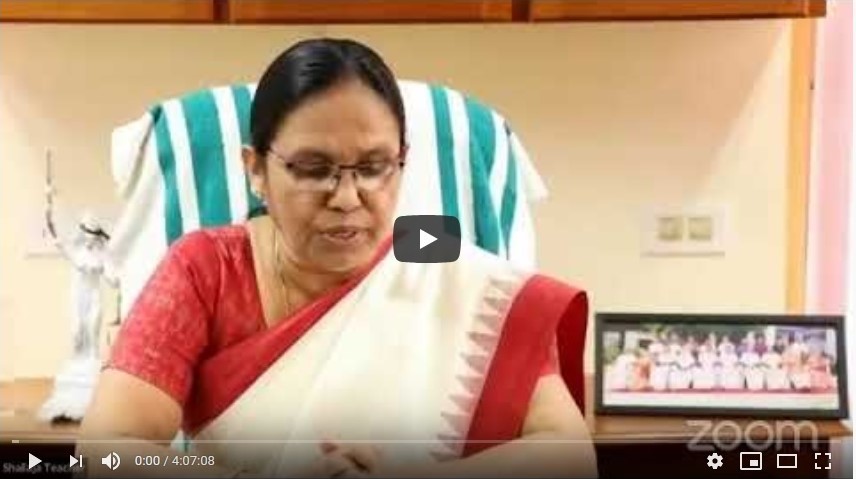 August 16, 2020 | Janta Parliament: Session on Health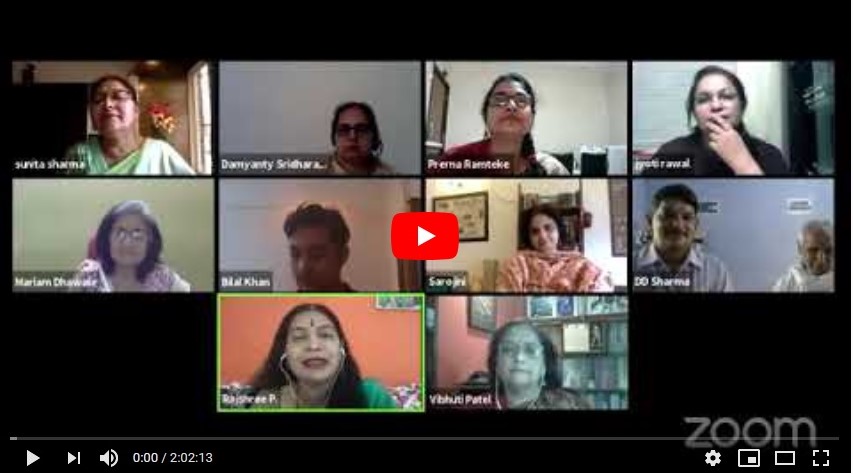 Aug. 8, 2020 | CWS, Ravenshaw University | Assessing the Impact of COVID19 Pandemic through Gender Lens | Speakers: Prof. Asha Hans, Prof. Vibhuti Patel, Prof. Ishita Mukhopadhyay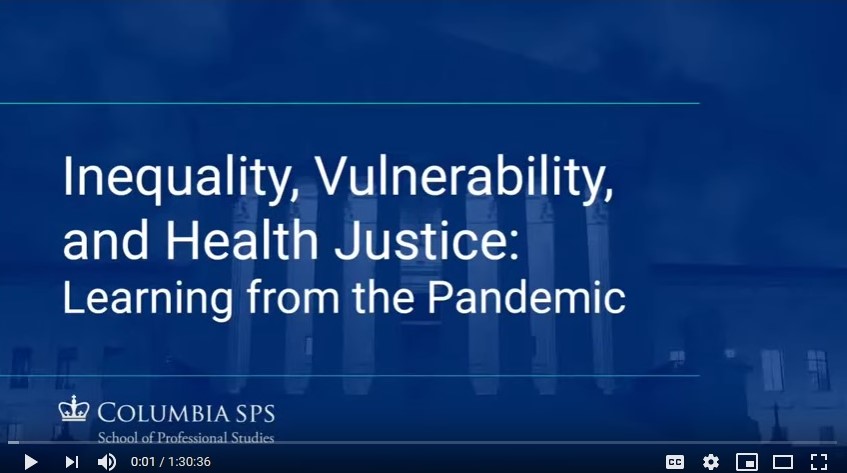 August 5, 2020 | Columbia SPS | Inequality, Vulnerability, and Health Justice: Learning from the Pandemic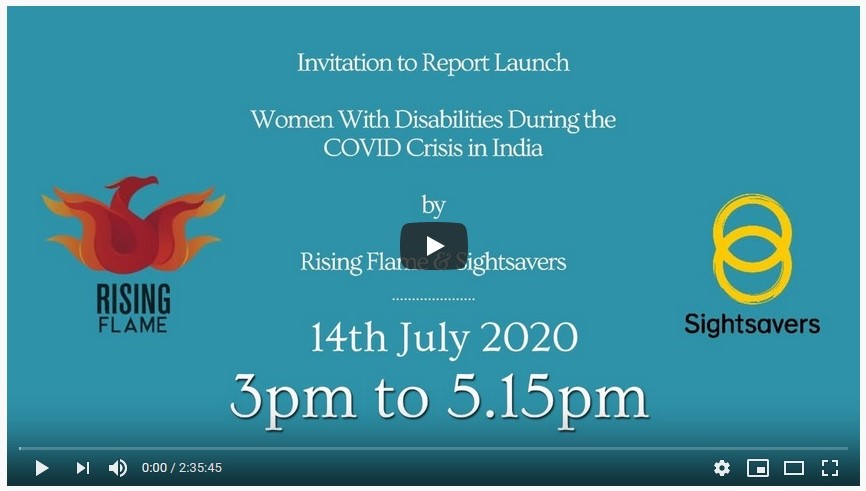 July 14, 2020 | RISING FLAME | Report Launch: Women with Disabilities During Covid Crisis in India
Rising Flame in collaboration with Sightsavers invites you to the launch of our report on women with disabilities during COVID crisis in India. Hear experiences of women across disabilities from all over the country and their recommendations to be included.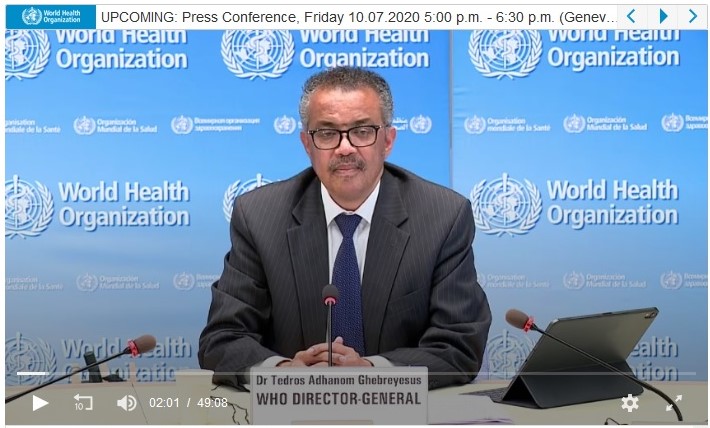 July 8, 2020 | WHO | Possibility of airborne transmission in public settings cannot be ruled out: WHO
After 239 scientists wrote to the World Health Organization (WHO), urging them to seriously consider the evidence regarding possible airborne transmission of Covid-19, the global health body has acknowledged the emerging evidence and said that it is not ruling out the possibility. In a briefing Tuesday, WHO's Dr Maria Van Kerkhove said WHO has engaged with epidemiologist, clinicians, engineers, mathematical modellers to try to consolidate over the transmission of coronavirus.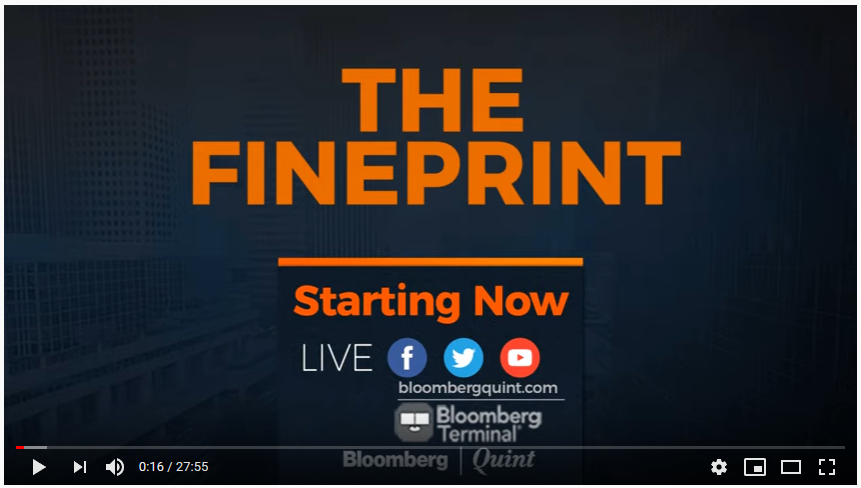 July 2, 2020 | The Fineprint: Patanjali | Amar Jesanai and Murali Neelakantan
Did the Ayush Ministry let Patanjali go off the hook with a slap on the wrist? Amar Jesanai and Murali Neelakantan weigh in. #BQLive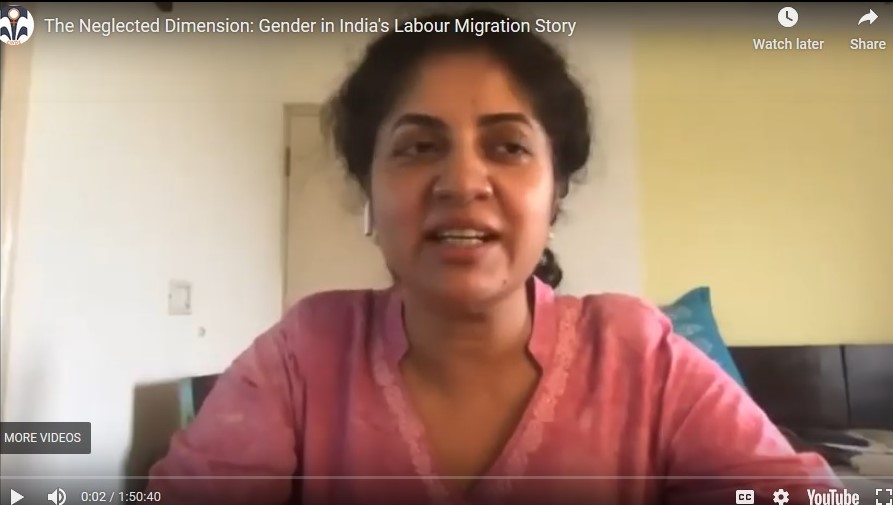 June 21, 2020 | CWDS | The Neglected Dimension: Gender in India's Labour Migration Story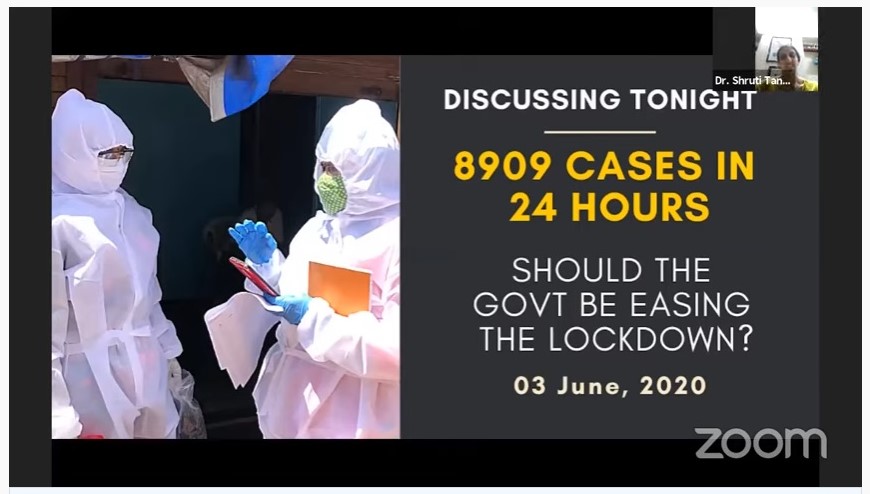 June 3, 2020 | Discussion on covid 19 and lockdown with Faye Dsouza
Guest: Dr. Sanjeev Mehta, Leelavati Dr. Shruti Tandan, Jaslok Ravi Duggal, Public Health Activist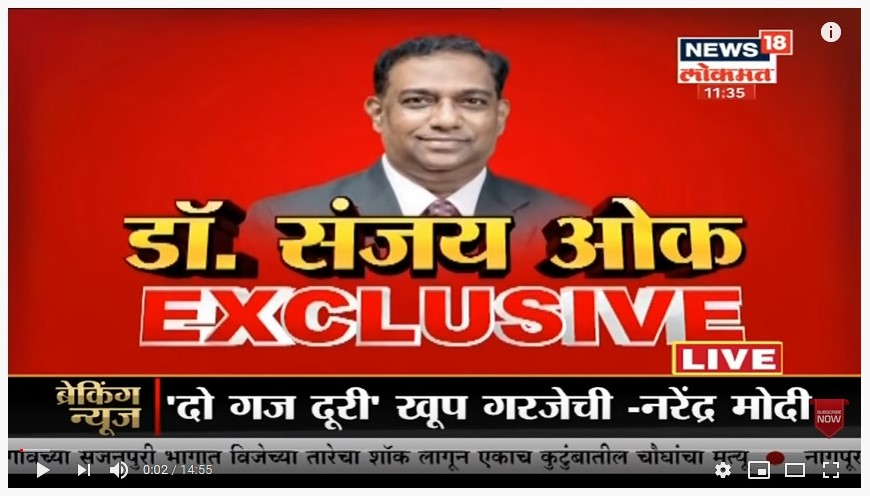 May 31, 2020 | News18 Lokmat | 'Covid Task Force'चा किती फायदा झाला? With Dr. Sanjay Oak Exclusive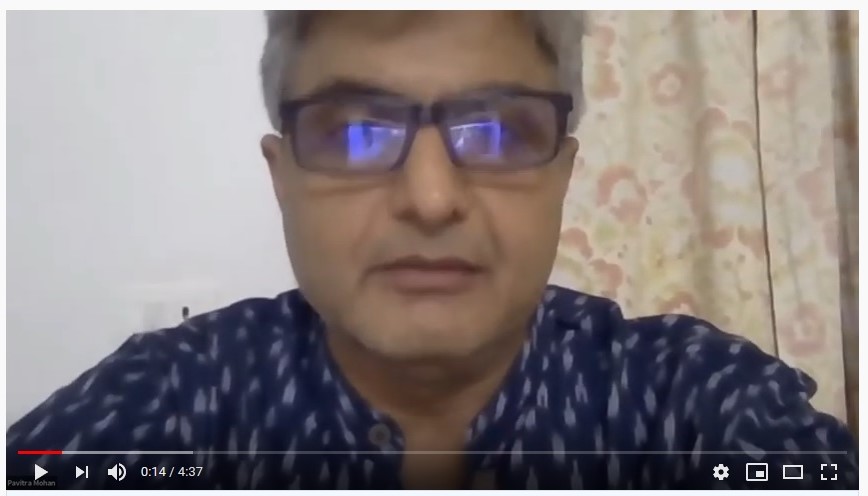 May 22, 2020 | Channel AID | Dr Pavitra's talk on disruption of health care services due to the Covid crisis and lock-down
Listen to Dr. Pavitra Mohan, Co-founder of Basic Health Services, Rajasthan (BHS) talk about Disruption of India's (Non-Covid) health services due to Coronavirus and Lockdown.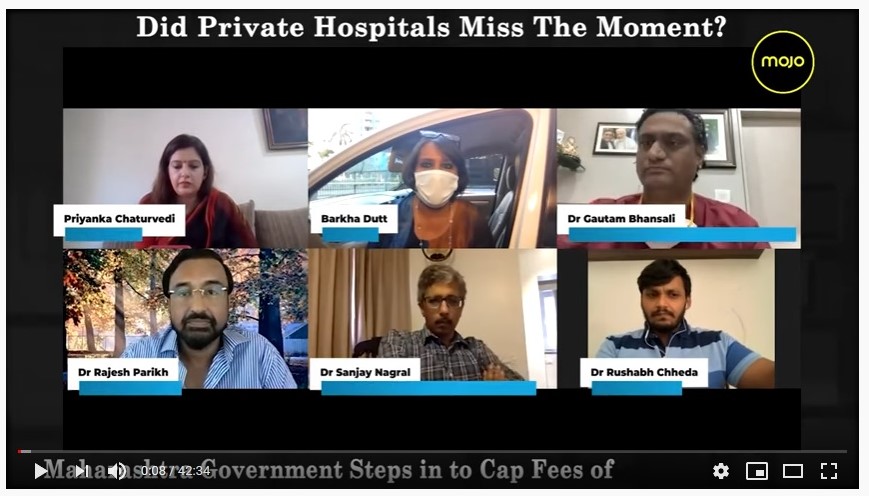 May 22, 2020 | MOJO STORY | Have Private Hospitals Failed Mumbai? As the City Runs Short of Beds, Government Caps Fees
Priyanka Chaturvedi of the Shiv Sena, Dr Rushub Chedda of Sion Hospital, Dr Sanjay Nagral, Writer & Surgeon, Dr Gautam Bhansal of Bombay Hospitals & Dr Rajesh Parikh of Jaslok Hospital talk to Barkha Dutt about the severe shortage of Hospital Beds and Doctors in the city . Private Hospitals have now been requisitioned and their fees have also been capped. But with Public Hospitals carrying a disproportionate share of the burden, many are asking why private hospitals did not step in sooner.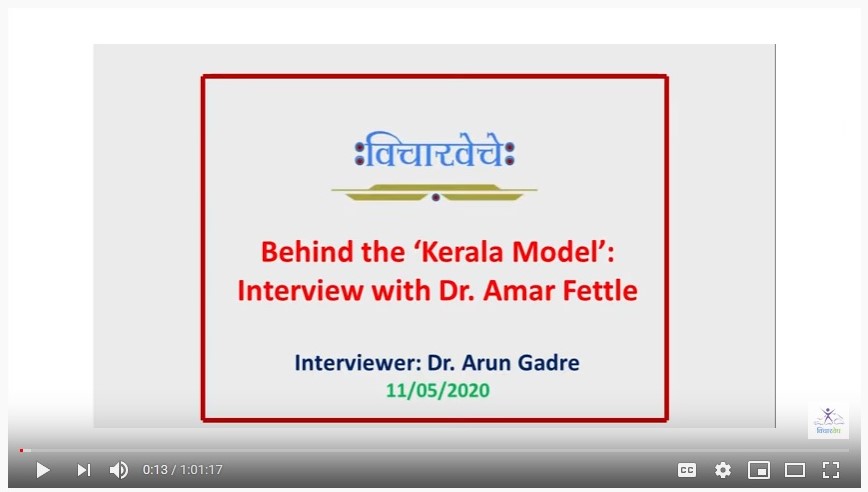 May 18, 2020 | SATHI | Interview of Dr. Arun Gadre with Dr.Amar Fettle Chief Nodal Officer for Health Emergencies on Kerala Model of Combating Covid-19. | Dr. Arun Gadre
We all have been hearing about the 'Kerala Model' and how successful it has been in curbing the spread of COVID-19. But what it really is? How did Kerala could put up such a tough fight against the coronavirus. And what goes behind building such a robust public healthcare system? To understand this we reached out to and had a conversation with Dr. Amar Fettle, Kerala State Health Department Nodal Officer, who is experienced in tackling major epidemic outbreaks in Kerala for the last eight years. Interviewing him is Dr. Arun Gadre, a well known gynecologist and founder member of Alliance of Doctors for Ethical Healthcare.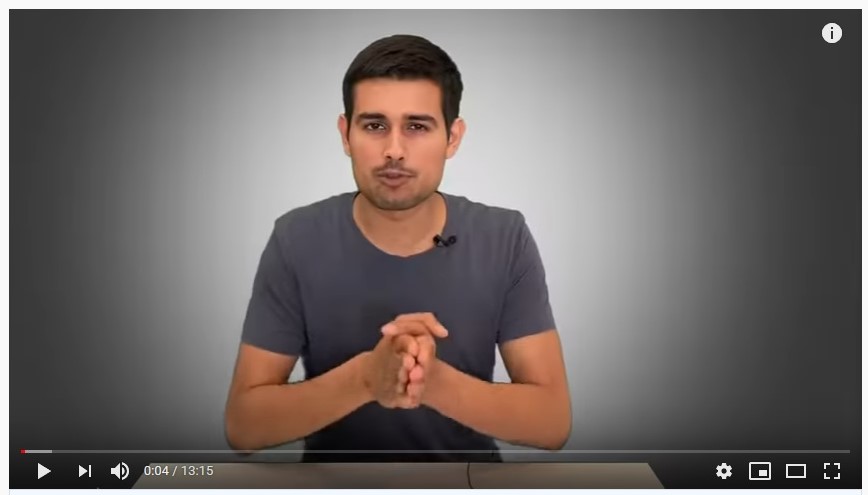 May 14, 2020 | India's Best State against Coronavirus? | Dhruv Rathee
The number of coronavirus cases show no sign of flattening down. They have kept increasing across India but there is one state which is clearly winning the fight against Covid19. It is Kerala. Some of it is because of quick and careful decisions they took, some of it is also because of infrastructure and healthcare model that already exists in the state. In this video, let's understand what rest of India can learn from the Kerala model. Kerala is the fourth best state in the country in terms of doctor availability. Health index 2019 by NITI Ayog states that Kerala is the best state in terms of healthcare in India. Kerala spends more than 5% of its GDP for healthcare while India as a country only spends 1.29% of GDP on Healthcare. I interview Dr. Abhay Shukla to understand how India needs to improve its healthcare for the future pandemics.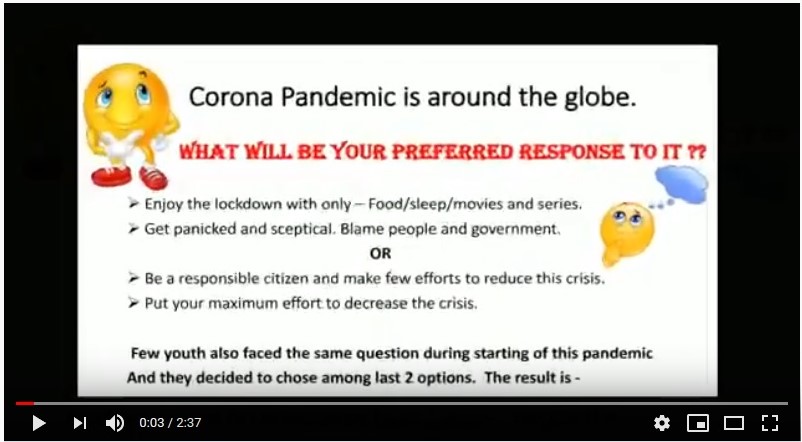 May 4, 2020 | Yumetta | Yumetta Response to Spread authentic Information about corona
Video is about how yumetta responded to covid crisis by creating and translating authentic information in regional language.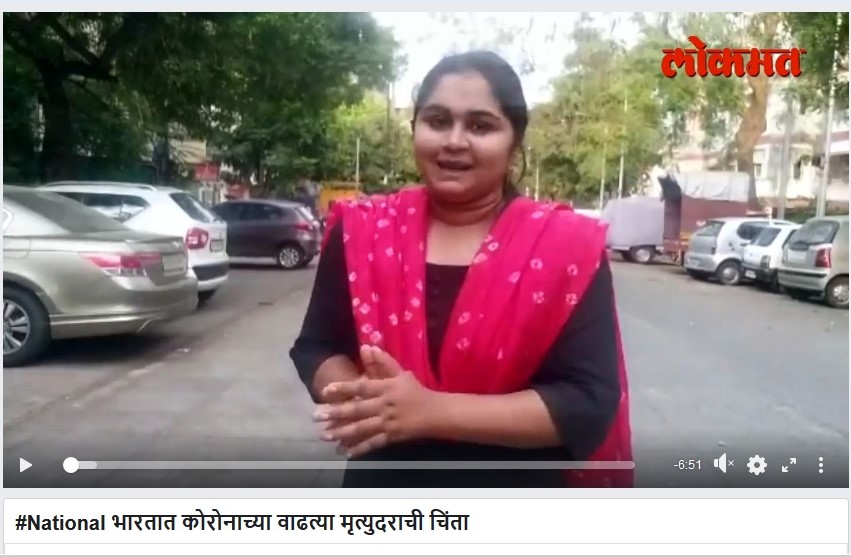 April 29, 2020 | Lokmat | #National भारतात कोरोनाच्या वाढत्या मृत्युदराची चिंता नको | Corona Virus In India | India News | Neha Saraff
करोना-साथी ची घबराट कमी करण्यासाठी साठी मी छोटी व्हिडीओ टिपणी बनवली आहे. करोना साथी सोबत प्रतिकार शक्ती पसरते व हर्ड इम्युनिटी मुळे साथ ओसरेल हे थोडक्यात सांगणारा माझा व्हिडीओ लोकमत ने प्रसारित केला आहे. त्या वार्ताहर बाईने केलेली सुरुवात आणि टाईप केलेली काही माहिती यात अकारण चुका केल्या आहेत. माझा नाईलाज आहे. अनंत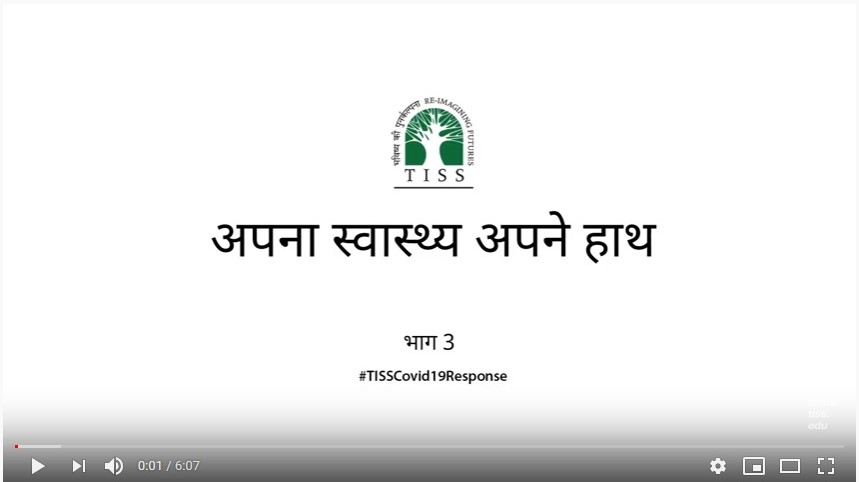 April 28, 2020 | #TISSCovid19Response | Part 3: Creating a Safe & Supportive Envnmt | अपने आसपास का माहौल सुरक्षित और संवेदनशील कैसे बनाएं?
अपने आसपास का माहौल सुरक्षित और संवेदनशील कैसे बनाएं? | Creating a Safe & Supportive Environment is Part 3 of the series अपना स्वास्थ्य अपने हाथ! Our Health in Our hands, made by TISS as a part of its response to combating the Covid-19 virus. It gives us simple tips to help ourselves and others in this difficult situation. It also discusses how to cope with stress and domestic violence. Watch this space for the next in the series: 4. Coping with Lockdown #TISSCovid19Response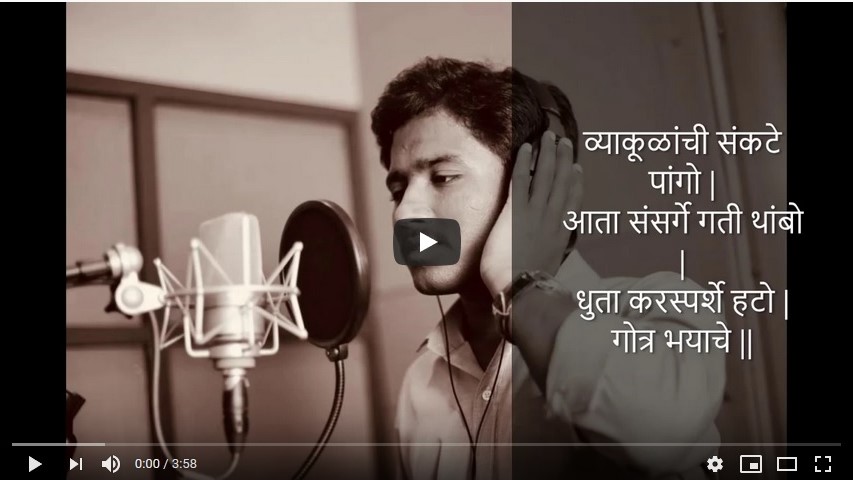 April 22, 2020 | Aarogyache Pasaydan |आरोग्याचे पसायदान | Lyrics Version | Prajakta Gavhane | Janardan Khandalkar
कोरोनाच्या पार्श्वभूमीवर संवेदनशील मनात बरेच पडसाद उमटत आहेत. देवापुढे हात जोडले की आपसूक पसायदान मुखी येतंय. विश्वशांतीचं जे हे उत्कट काव्य माउलींनी आपणा सर्वांसाठी रचलं त्याला हात घालायची माझी पात्रता नाही. हे लिहिण्याचा प्रयत्न केलाय तो केवळ सद्भावना पोहोचवण्यासाठी, सर्वासाठी "आरोग्य आणि स्वास्थ्य" मागण्यासाठी !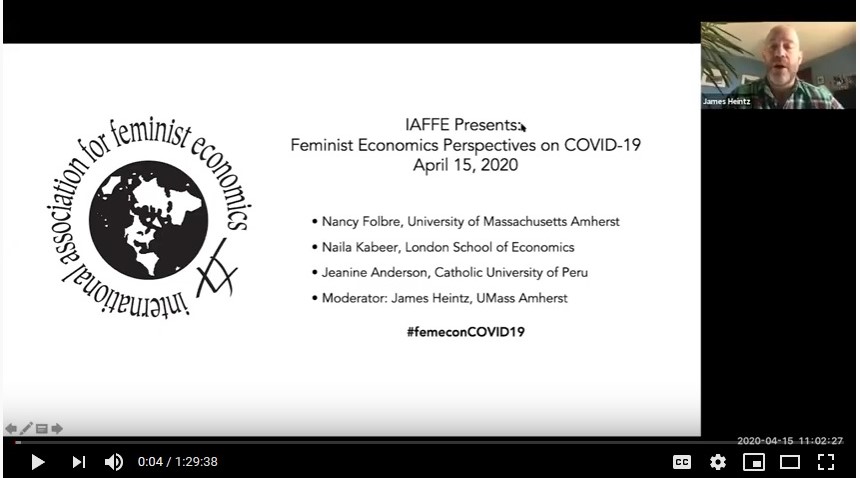 April 20, 2020 | IAFFE | IAFFE Presents: Feminist Economics Perspectives on COVID-19
An online panel and discussion for members and friends of the International Association of Feminist Economics about the impact of COVID-19 that took place on April 15, 2020. Panelists include: Nancy Folbre, University of Massachusetts Amherst; Jeanine Anderson, Catholic University of Peru; and Naila Kabeer, London School of Economics. The discussion was moderated by James Heintz, UMass Amherst.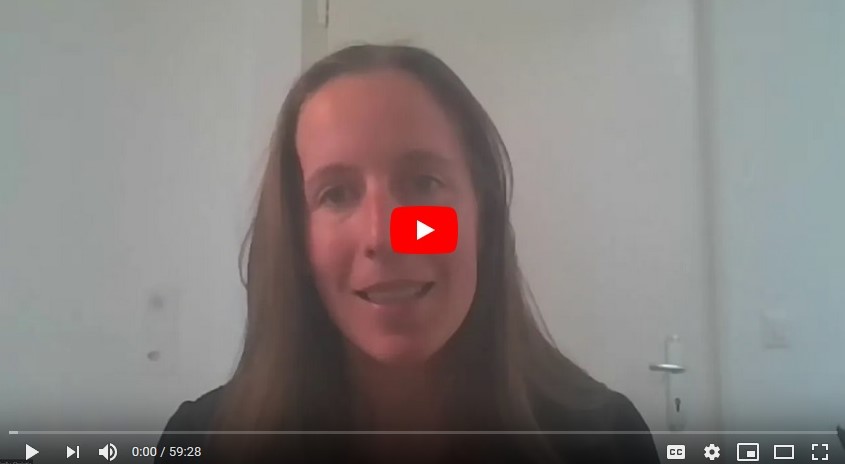 April 13, 2020 | GHC Webinar | Human Rights in the Covid-19 Response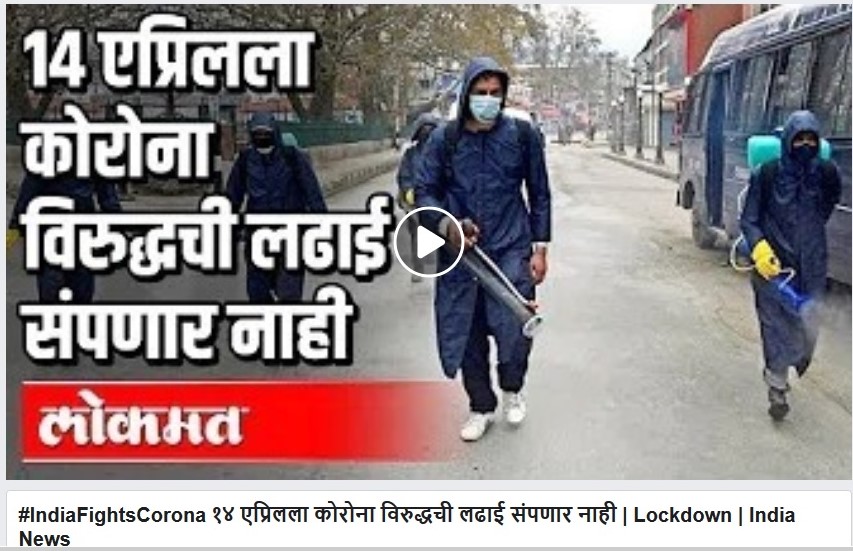 April 2, 2020 | Lokmar | #IndiaFightsCorona १४ एप्रिलला कोरोना विरुद्धची लढाई संपणार नाही with Dr Anant Phadke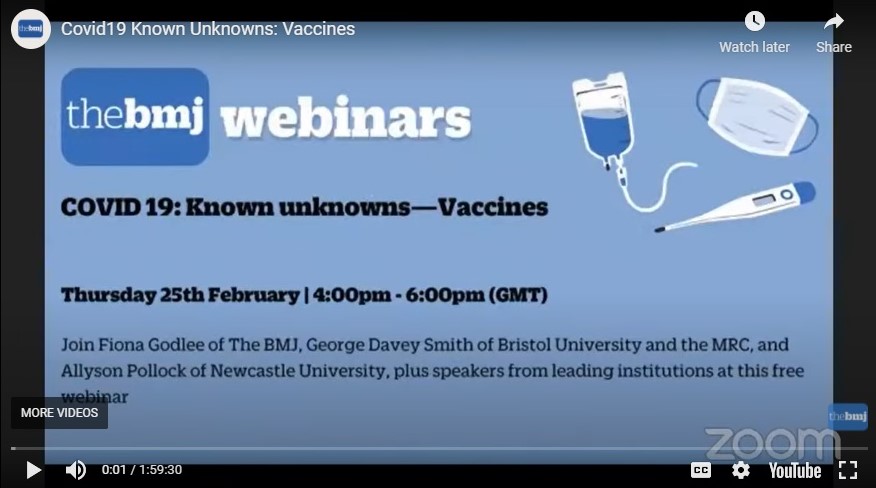 February 25, 2021 | BMJ | COVID 19: Known unknowns – Vaccines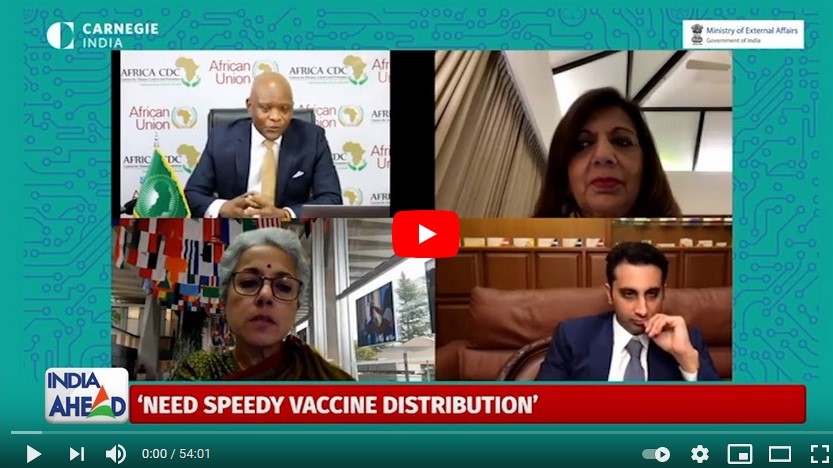 January 3, 2021 | India Ahead News | Carnegie India: Challenges In Developing Covid-19 Vaccine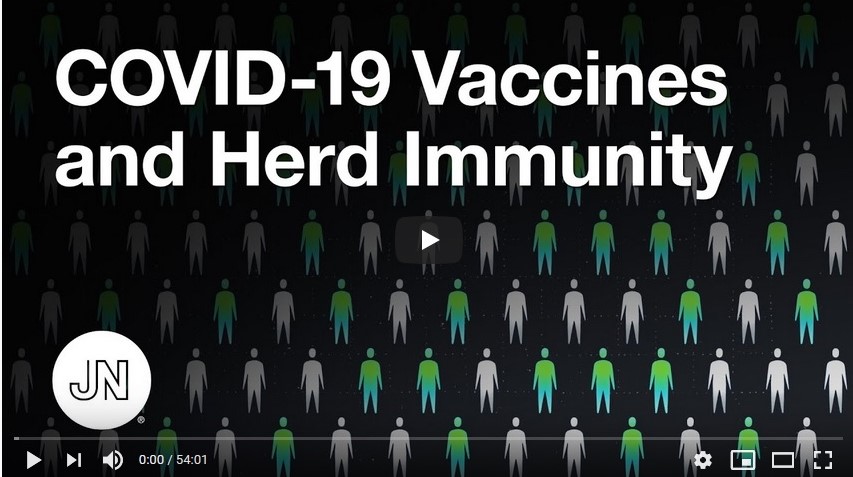 December 17, 2020 | JAMA Network | COVID-19 Vaccines and Herd Immunity
With coronavirus vaccines now available, what are the timeline and prospects for "herd immunity" and return to a new normal? Marc Lipsitch of @Harvard T.H. Chan School of Public Health returns to JAMA's Q&A series with Paul Biddinger, MD, Director of @MassGeneralHospital's Center for Disaster Medicine, to discuss.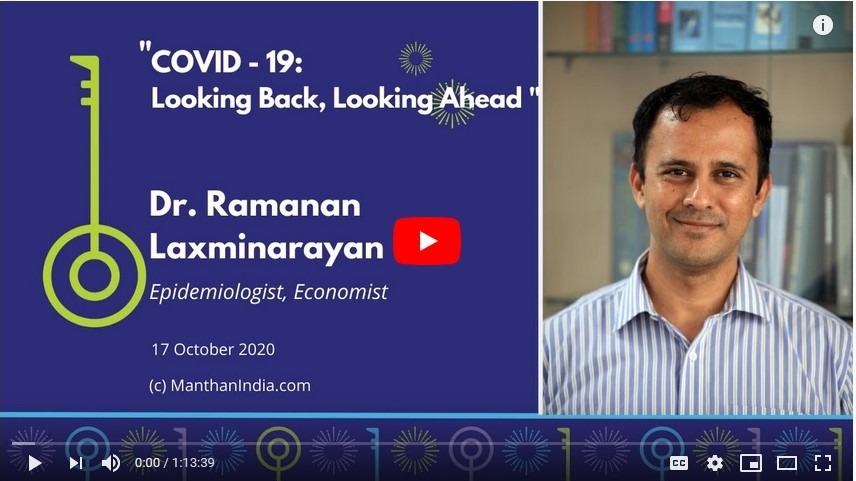 October 18, 2020 | Manthan Foundation | "COVID-19: Looking Back, Looking Ahead" on Manthan w/ Dr. Ramanan Laxminarayan[Sub in Hindi & Tel]
THE TALK
We are about six months into the pandemic which has by now caused enormous damage in health and economics. This is a good time to look back into how the pandemic has progressed, its impact on the economy and society, and how it was managed. This is also a time to look into the future and understand how it is likely to unfold and to learn lessons from the past few months.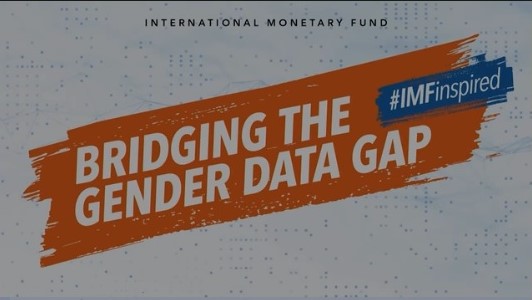 October 8, 2020 | IMF | IMF Inspired – Bridging the Gender Data Gap
The session will review the damaging effects of gender data gaps on work, at home, and on government policies, and how the COVID-19 pandemic is exacerbating gender inequality. Join the conversation via #IMFInspired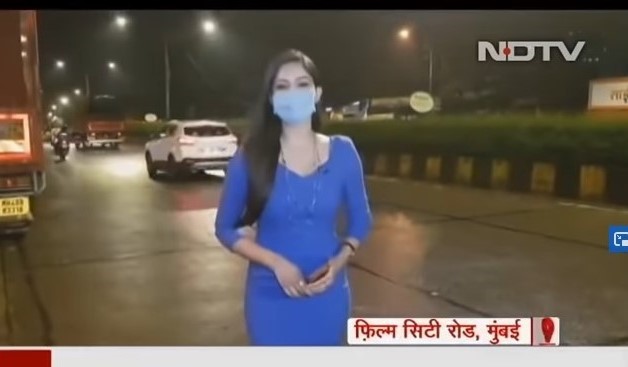 August 17, 2020 | NDTV India | COVID-19 News: Maharashtra में Private Hospitals का बुरा हाल | City Centre
महाराष्ट्र (Maharashtra) में सोमवार को कोरोना वायरस (Coronavirus) संक्रमण के 8,493 नए मरीज सामने आने से इस महामारी के मामले छह लाख के पार चले गये जबकि 288 और मरीजों की जान चली गयी. राज्य के एक स्वास्थ्य अधिकारी ने यह जानकारी दी. उन्होंने बताया कि राज्य में 8,493 नए मरीज सामने से इस महामारी के मामले बढ़कर 6,04,358 हो गये जबकि 288 और लोगों की इस वायरस से मृत्यु हो जाने के बाद मृतकों की संख्या 20,265 हो गई. इधर राज्य में प्राइवेट अस्पतालों का हाल काफी बुरा देखने को मिल रहा है.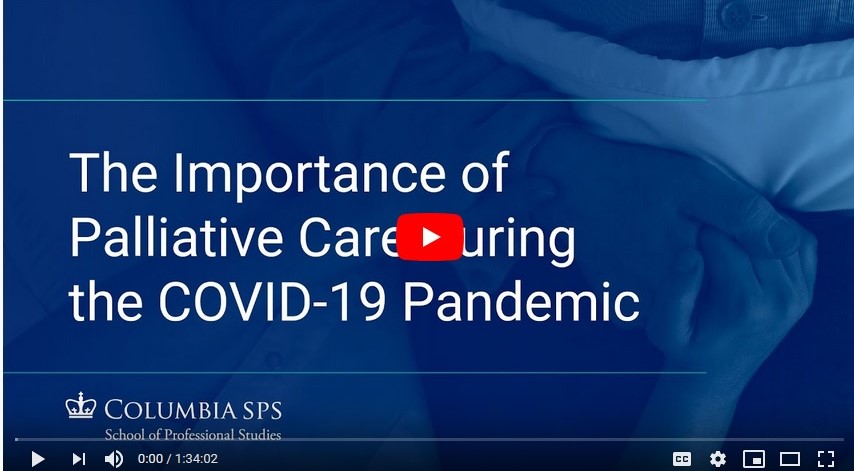 July 29, 2020 | Columbia SPS | The Importance of Palliative Care during the COVID-19 Pandemic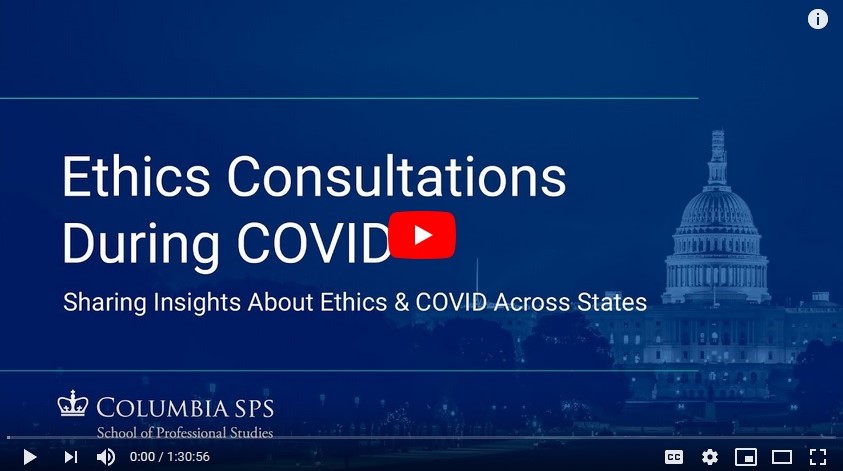 July 22, 2020 | Columbia SPS | Ethics Consultations During COVID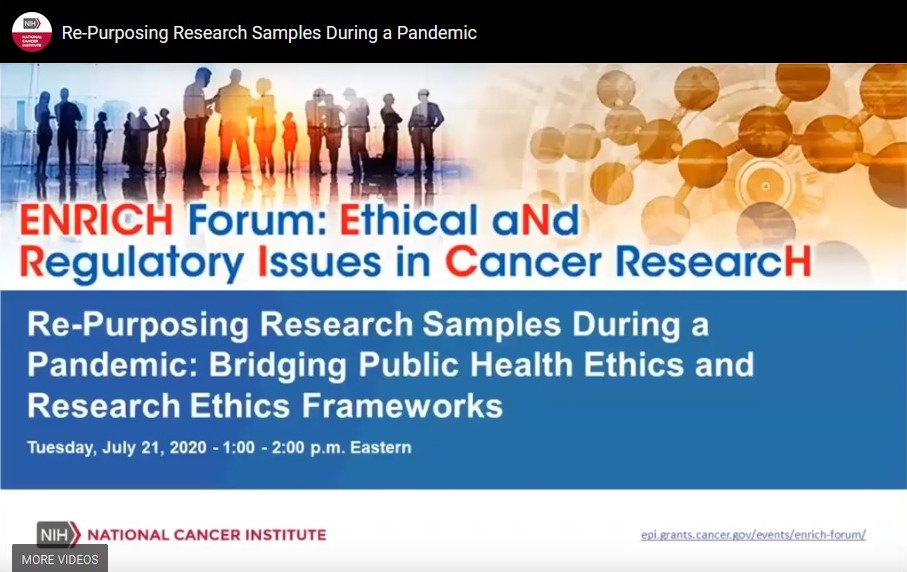 July 21, 2020 | NCI | Re-Purposing Research Samples During a Pandemic: Bridging Public Health Ethics and Research Ethics Frameworks on the ENRICH Forum Website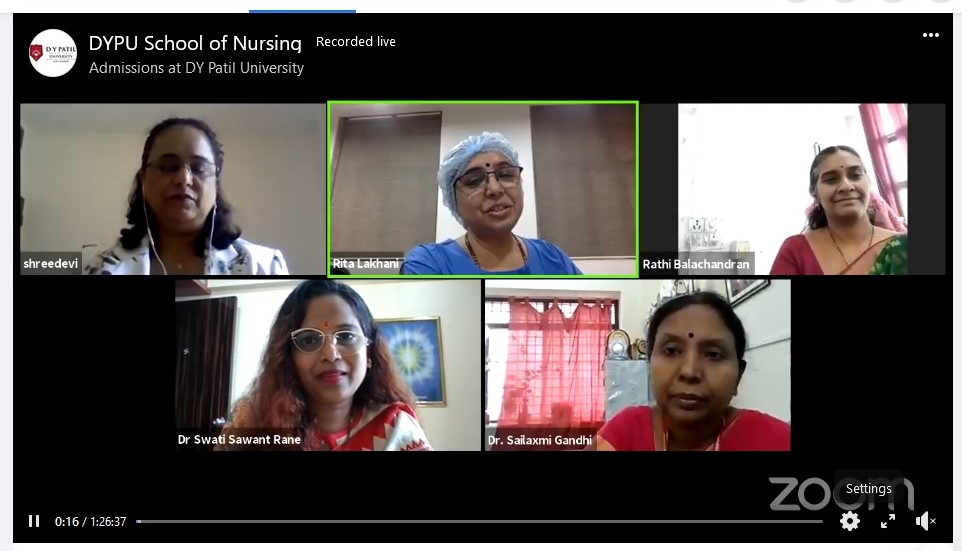 July 15, 2020 | DYPU School of Nursing | Webinar on Image of Nursing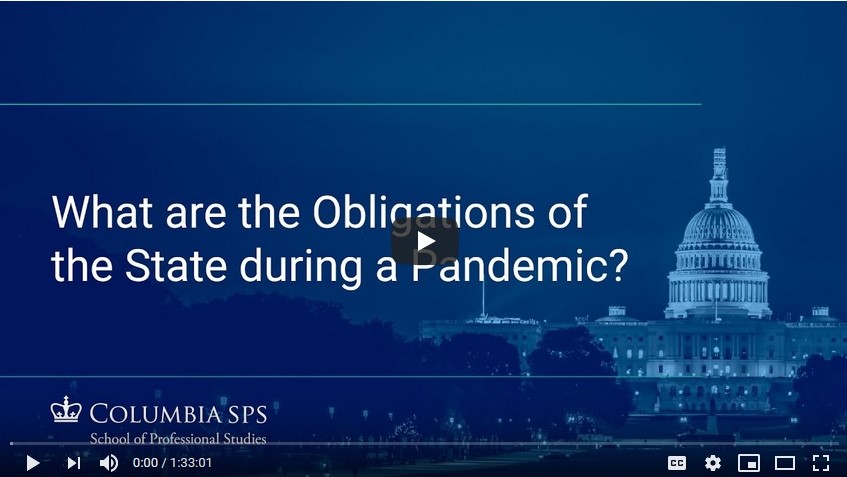 July 15, 2020 | Columbia SPS | What are the Obligations of the State during a Pandemic?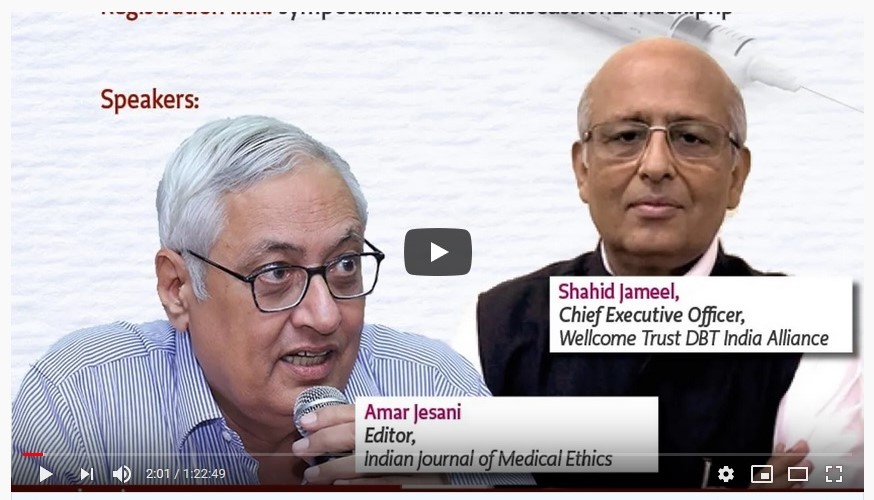 July 8, 2020 | ISRC | ISRC Discussion on "Speeding up Vaccine Trial in India" with Dr. Shahid Jameel and Dr. Amar Jesani
The indigenous vaccine for COVID-19 being developed by BBS and ICMR is in news because of the fast tracking. Let's hear about how a vaccine is developed and what can be fast tracked to get a safe and effective vaccine in this ISRC discussion meeting with Dr. Shahid Jameel (CEO, Wellcome Trust DBT India alliance) and Dr. Amar Jesani (Editor, Indian Journal of Medical Ethics).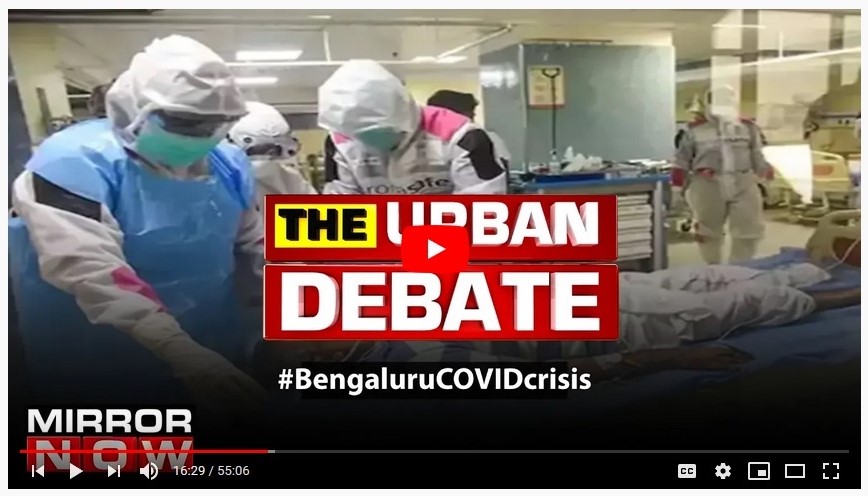 July 7, 2020 | Mirror Now | Bengaluru COVID cases increase with a shortage in healthcare staff? | The Urban Debate
On the Urban Debate with Tanvi Shukla, Why did the Bengaluru COVID model fail? From 386 cases as of June 1 to 9580 cases as of July 5, Bengaluru sees a massive jump in the number of COVID cases. BJP leader Dr. Narendra Rangappa says "We have not let our guard down. There are many factors responsible for the increase in the number of cases. The growth rate is well under control."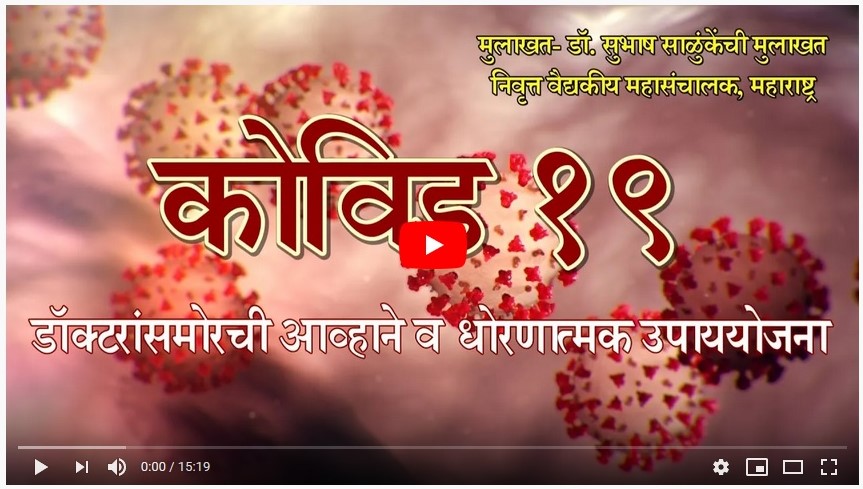 July 1, 2020 | Vedh Arogyacha | डॉक्टरांसमोरची आव्हाने व धोरणात्मक उपाययोजना डॉ.सुभाष साळुंके निवृत्त वैद्यकीय महासंचालक महाराष्ट्र
कोविड१९ च्या पार्श्वभूमीवर साध्या, सोप्या भाषेतील, वैज्ञानिक पुराव्यांवर आधारित, विश्वासार्ह माहिती आपल्यापर्यंत पोहोचवावी यासाठी 'वेध आरोग्याचा' हे नवीन YouTube चॅनेल सुरु केले आहे.
आज 'डॉक्टर्स डे' या निमित्ताने 'वेध आरोग्याचा' पहिला व्हिडीओ सादर करीत आहोत. या पहिल्या व्हिडीओत, 'डॉक्टर्स डे' या निमित्ताने कोविडच्या काळात, डॉक्टर, नर्सेस, आरोग्यकर्मचारी यांनी केलेले लक्षणीय काम, यांच्या समोरची आव्हाने, आणि यासंबंधी धोरणात्मक उपाययोजना याचा थोडक्यात परामर्श महाराष्ट्र राज्याचे निवृत्त वैद्यकीय महासंचालक, डॉ. सुभाष साळुंके यांनी घेतला आहे.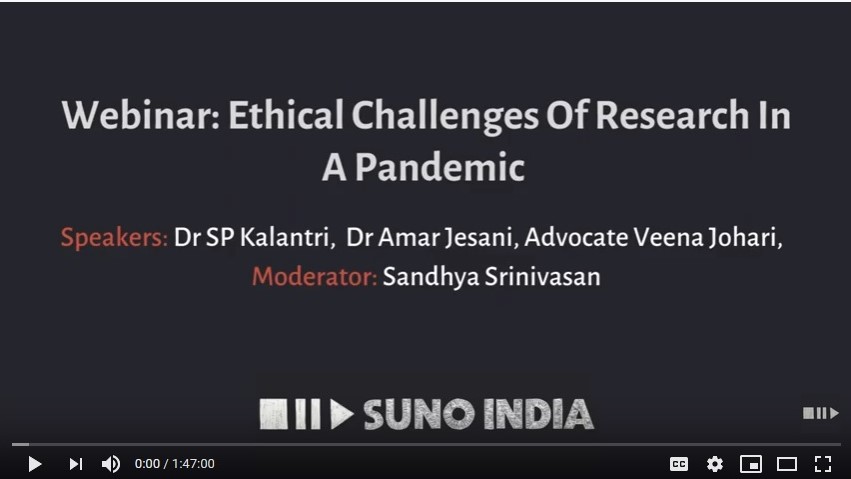 June 29, 2020 | Suno India | Webinar: Ethical Challenges Of Research In A Pandemic | Dr SP Kalantri, Dr Amar Jesani, Advt. Veena Johari, Moderator: Sandhya Srinivasan
The pressure for an effective treatment or vaccine for COVID-19 is high. There are more than 2,000 studies on COVID-19 across the world; many of these are trials on humans to develop vaccines, and to test the efficacy of drugs for this new disease. The urgency of this pandemic presents new, acute ethical challenges in research to be discussed at this webinar…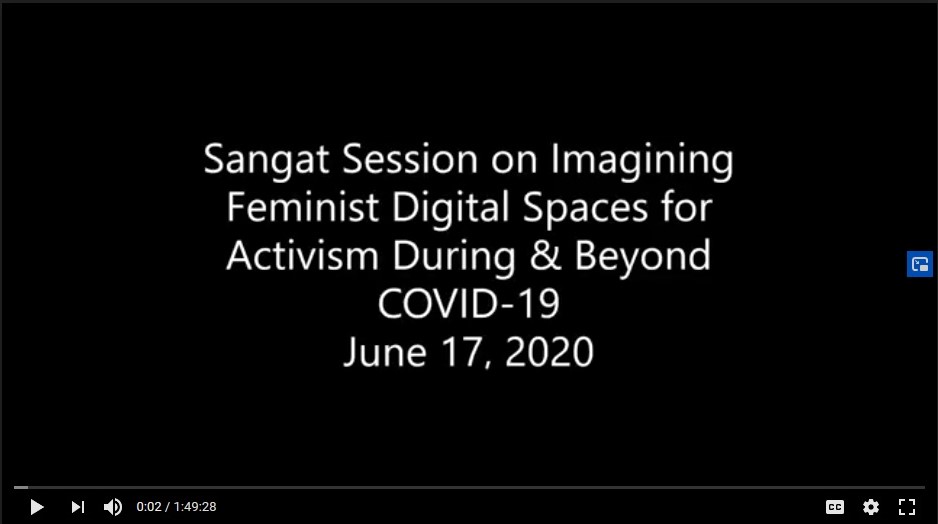 June 17, 2020 | Sangat – A Feminist Network| Imagining Feminist Digital Spaces for Activism During & Beyond Covid-19Sangat – A Feminist Network invites you to a session on imagining feminist digital spaces for activism during and beyond the pandemic. The session will talk about some existing ways in which digital media is being used for activism, address concerns around surveillance and privacy as well as imagine a feminist internet. The speakers are Sachini Parera, a queer feminist activist from Sri Lanka, Jyotsna Maskay from LOOM, Nepal, Jasmine George from Hidden Pockets, India and Sushmita S. Preetha from The Daily Star, Bangladesh. The session will be moderated by Zainab Ibrahim, a researcher and Sangat Core Group member from Sri Lanka.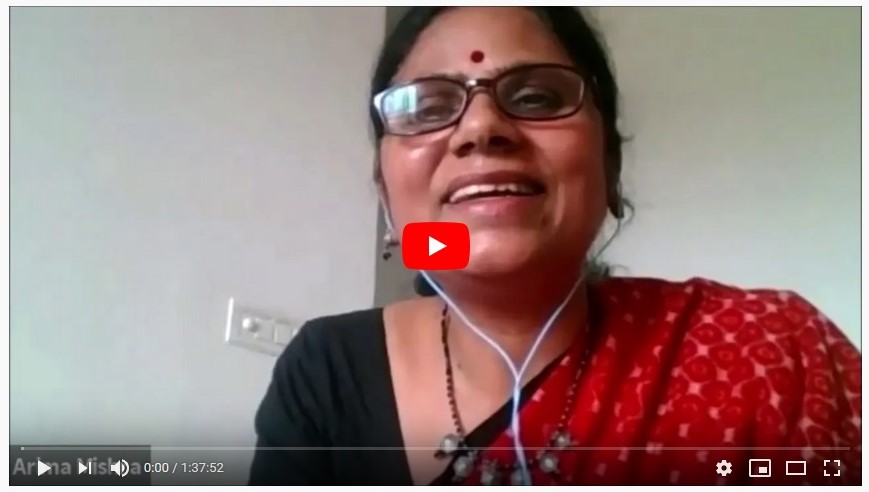 May 29, 2020 | CHSJ | Being at frontline of Covid 19: Conversation with the Grassroots Healthcare Workers in India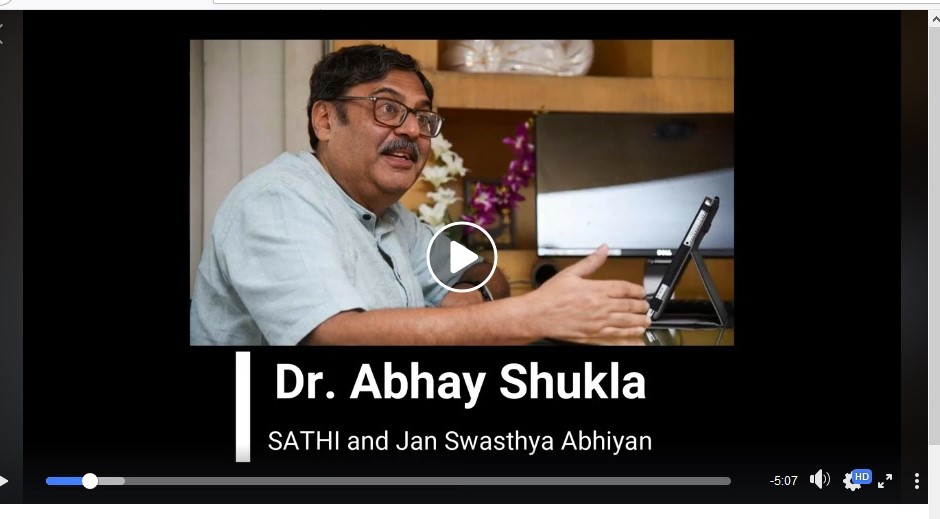 May 21, 2020 | AID | Dr. Abhay Shukla explains the success of Kerala Model | Abhay Shukla
Dr. Abhay Shukla is a public health physician, who has been working on health issues in collaboration with people's movements and grassroots NGOs in Western India for over two decades. He is Senior Programme Coordinator at SATHI Pune, along with being a member of the National Health Mission Advisory Group for Community Action (AGCA), as well as having membership of the Core group on Health of the National Human Rights Commission (NHRC). He is one of the national convenors of Jan Swasthya Abhiyan (JSA or People's Health Movement – India) and was centrally involved in the organization of the National Right to Health Care campaign during 2003-04.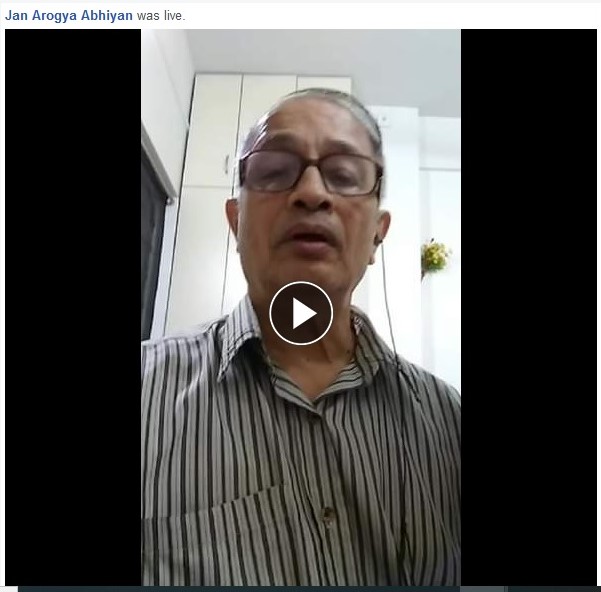 May 14, 2020 | जन आरोग्य अभियान | जन आरोग्य अभियान – कोविड सोबत जगताना घ्यायची काळजी
| वक्ते – डॉ. अनंत फडके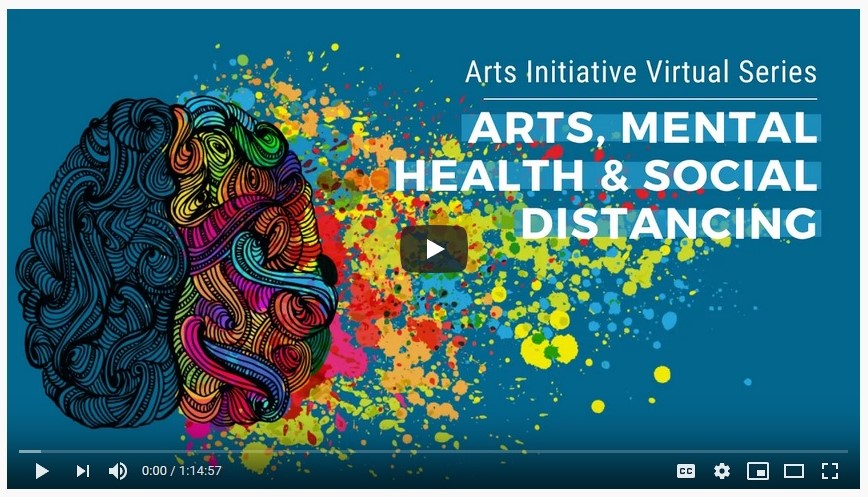 May 13, 2020 | BU Arts Initiative | Virtual Series: Arts, Mental Health & Social Distancing
Join the BU Arts Initiative and the BU Wellbeing Project for a thoughtful and timely discussion with three mental health experts, Dr. Girija Kaimal, Dr. Sarah Lipson, and Dr. Jeremy Nobel, to discuss their work, contemporary mental health issues for college students, and the mental health benefits of a variety of arts engagement activities.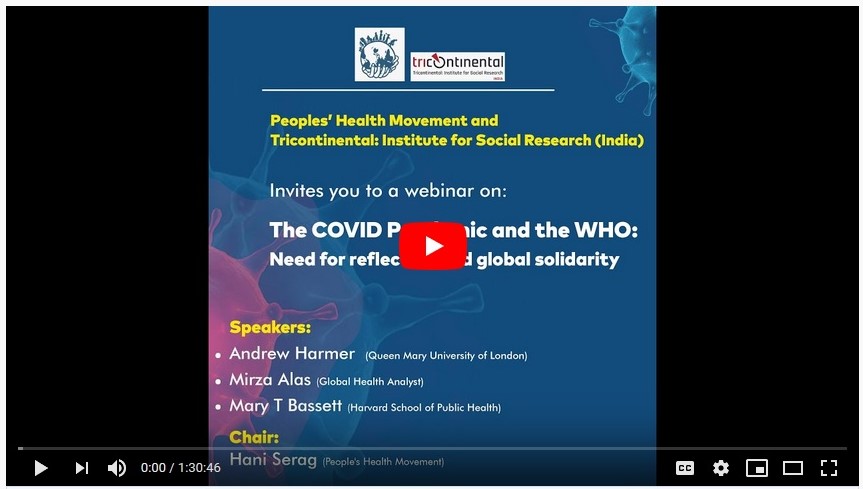 May 11, 2020 | People's Health Movement | The Covid Pandemic and the WHO: Need for Reflection and Global Solidarity
People's Health Movement and Tricontinental: Institute for Social Research (India) organised a webinar to understand the attack on the WHO and why its important to stand with the organisation today and to understand the narrative of the neoliberal order which solely is based on the profit and not solidarity or cooperation.
Chair: Hani Serang (PHM) Speakers: Mirza Alas (Global Health Analyst), Andrew Harmer (Queen Mary University of London) and Mary T Bassett (Harvard School of Public Health)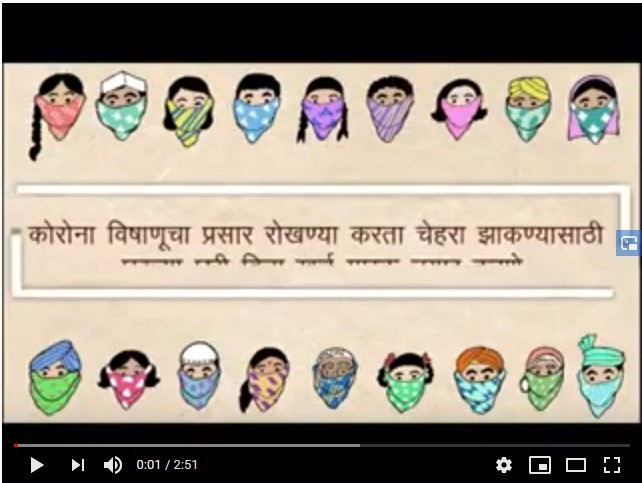 Making of no cost face masks – Marathi
This video in Marathi demonstrates how to make no cost face masks at home to prevent the spread of the corona virus, the importance of their proper use and physical /social distancing.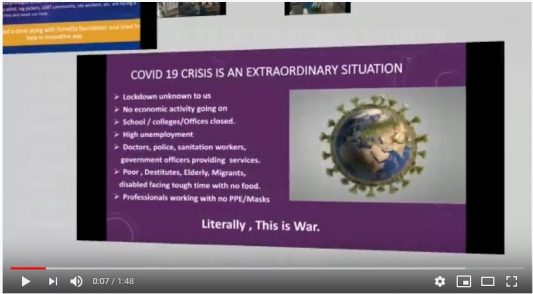 May 3, 2020 | Yumetta | Report of 45 days work by Yumetta
Sharing 45 days report of Yumetta in PPE and Ration Donation Drive. Keep sharing, keep spreading the drive. Still many people to help.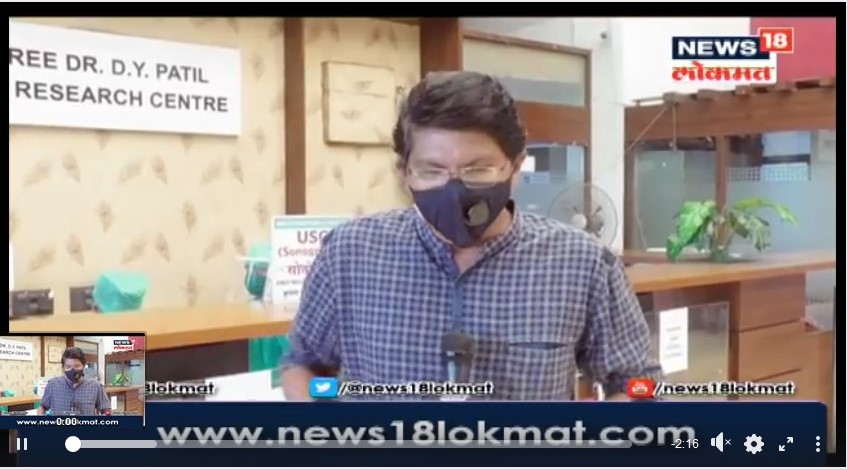 April 28, 2020 | News18 Lokmat | नवी मुंबईतील महापालिका रुग्णालय
नवी मुंबईतील महापालिका रुग्णालय, डी वाय पाटील आणि हिरानंदानी रुग्णालय कोरोनाच्या रुग्णांसाठी ठेवण्यात आल्याने छोट्या मोठ्या आजाराच्या रुग्णांचे मोठे हाल होत आहेत. कोरोना व्यतिरिक्त रुग्णांसाठी फक्त नेरुळ येथील डी वाय पाटील रुग्णालयावर मदार आहे. याच डी वाय पाटील रुग्णालयात काय परिस्थिती आहे याचा आढावा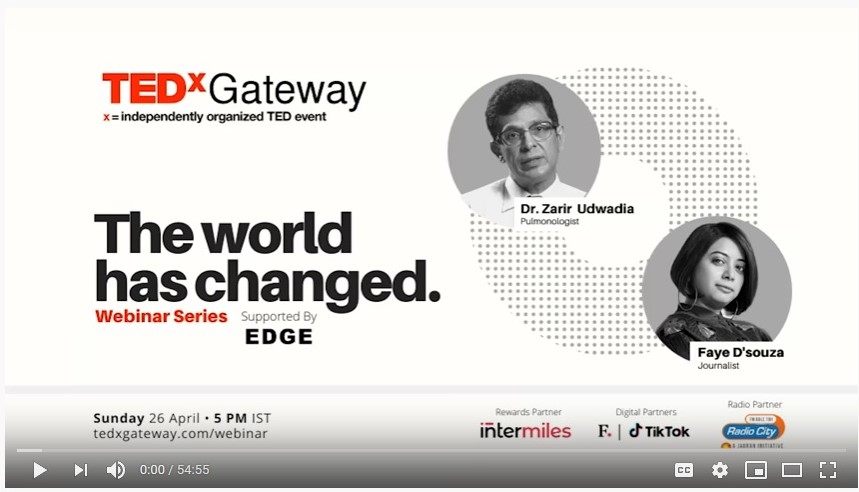 April 26, 2020 | Dr. Zarir F Udwadia | Dr. Zarir F Udwadia (Pulmonologist) in conversation with Faye D'Souza: TEDxGateway Webinar
Dr. Zarir F Udwadia is a consultant chest physician and MD, DNB, FCCP (USA) and FRCP (London) attached to the Hinduja Hospital, and Breach Candy Hospitals. He has struck the unique balance of combining a busy clinical practice with internationally acclaimed medical research. He sees over 10,000 patients annually in his extremely busy clinics. He has over 160 PubMed…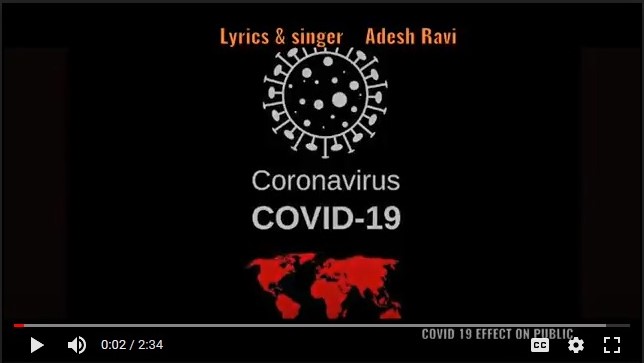 April 21, 2020 | Adesh Ravi's | Adesh Ravi's Migrant song on Corona (two and a half minutes)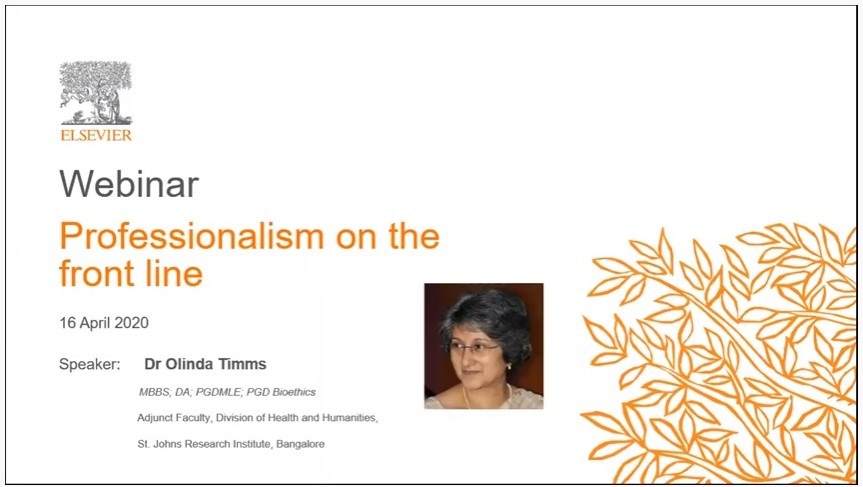 April 16, 2020 | ELSEVIER | Webinar Professionalism on the front line | Speeker: Dr. Olinda Timms
Presenting Webinar on "Professionalism on the front line with Dr. Olinda Timms". Watch to learn about the ethical issues that arise during pandemics, like Triage, Protection of workers, Communication and attitude, Justice issues, Inclusion, Isolation and quarantine, Duties of health professionals & more.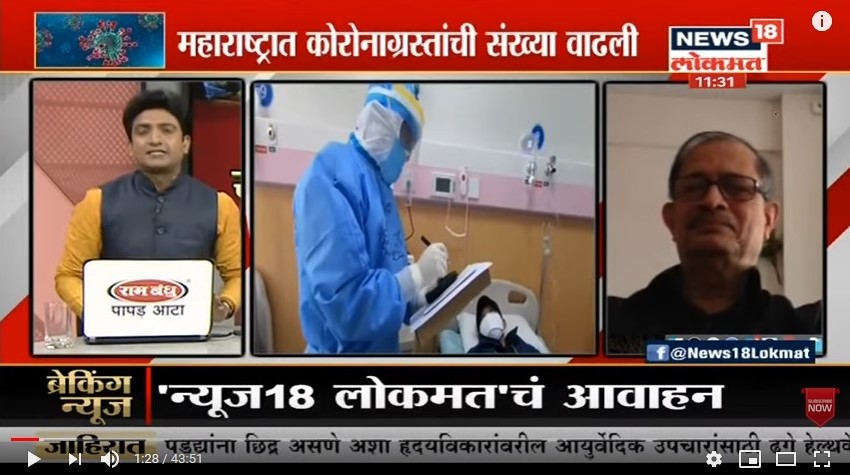 March 25, 2020 | News 18 Lokmat | Coronavirus : Home quarantine कसं राहायचं? With Dr Anant Phadke
देशभरात कोरोनाव्हायरस या आजाराने थैमान घातलं असताना महाराष्ट्रामध्ये कोरोनाच्या रुग्णांची संख्या आज पुन्हा वाढली आहे. कोरोनाचे आणखी 5 नवे रुग्ण समोर आले आहे.कोरोना वायरला नेमका कसा होतो?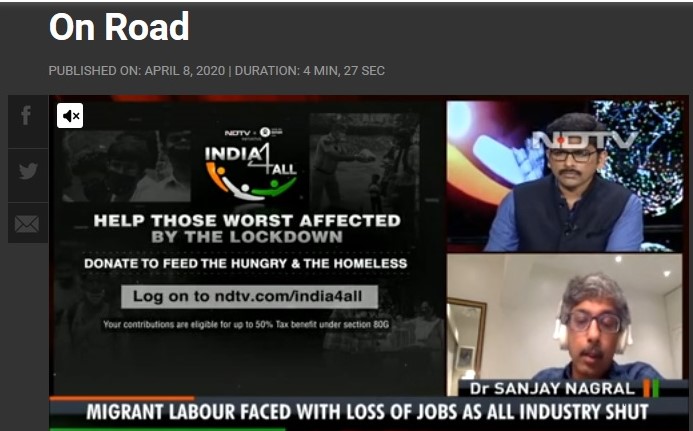 April 8, 2020 | FMES-IJME with NDTV | How can India provide medical assistance to people on road by Dr Sanjay Nagral
The spread of novel coronavirus has seen thousands of migrant labourers and daily wage earners coming out on roads and walking back to their respective home town. Under such a situation, providing medical assistance to people on the move is a question. Dr Sanjay Nagral, surgeon at Jaslok Hospital discussed the same and shared the lesson India can learn from hospitals in Mumbai.